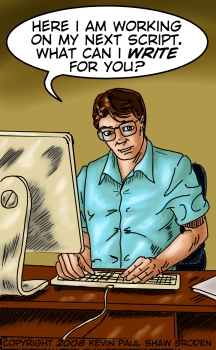 COMIC BOOK DEVELOPMENT AND WRITING
• Co-Developed and Co-Writer the online comic book

First collected volume with additional material avalable for publication.
SERIES DEVELOPMENT
• Co-Developed and co-wrote series bible and pilot script
adaptation of online comic book FLYING GLORY AND THE HOUNDS OF GLORY for animated television series content.
• Developed animation series bible and wrote pilot script for animated
television series HOT ROD GATOR based off producers original notes and drawings. Check out demo reel here.
• Co-Developed animation series bible and co-wrote pilot script for animated television series DOUBLES. Provided character designs, layouts, and conceptual art for series.
FEATURE DEVELOPMENT
• Developed and wrote treament for science fiction feature film
from producers original conceptual notes.


EPISODIC TELEVISION WRITING


• Co-Wrote multiple scripts for Japanese animated series MIDNIGHT HORROR SCHOOL
One of only two American writes hired for the series.



SAMPLE SCRIPTS


Please write to my e-mail address for copies of my scripting writing. Please let me know what company you are with and what you're looking for. Thank you.

• ANIMATION

MIDNIGHT HORROR SCHOOL "Nosy Noisy"Co-written with Shannon Muir.

BATMAN ADVENTURES "Faces Off"

• LIVE ACTION SITCOM

THE BIG BANG THEORY "The Hospital Postulate"

• COMIC BOOKS

FANTASTIC FOUR "Battle for the Mind of Reed Richards"

All Copyrights belong to their respective owners.