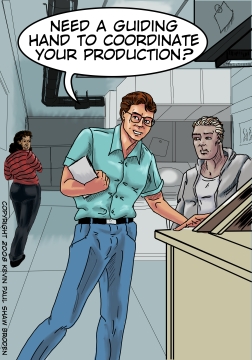 CREATIVE AND BUSINESS CONSULTANT


MIDNIGHT HORROR SCHOOL
•

Standards and Practices -

for Japanese animationed studio, MILKY CARTOON LTD, in preparation of selling series in the American television market.


HOT ROD GATOR


• Oversaw development and consideration of various story and artistic approaches, including approval of early character designs. Researched and gathered various artist samples for producers consideration.
• Researched target demographics and markets as it influences development.
• Arranged and participated in introductiory meetings with creative and production personnel.
• Met with potential financial and co-production partners, both domestic and international.
• Researched and prepared preliminary production budget and schedule.
• Liaison with Writers Guild of America.
• Check out demo reel here.
PRODUCTION ADMINISTRATION


WALT DISNEY STUDIOS


•

Television Animation Development

- Assistanted Production Manager
Responsible for maintaining files, scripts, and presentation artwork for animated series pilots and projects under consideration. Focusing on brand identification and content.
•

Television Animation Casting


Assembled contract and clearance forms and packages for agents and managers for animation voice actors on TEACHER'S PET.