Welcome to...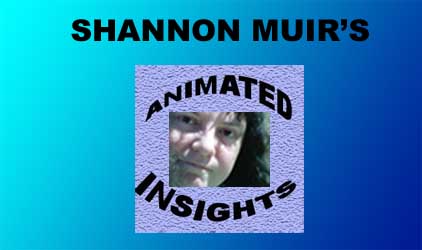 Shannon Muir's advice draws from almost 15 years in and around the animation industry as an animation writer and working in animation production, plus being known to the Voltron fan community (and later official advisor to World Events Productions for their Denubian Galaxy Starmap) that began long before becoming a pro - adding up to 25 years of interest and passion in the field! This site compiles information on how to get her books, a collection of past articles she's written, and a list of related resources, as well as being the new home to the immensely popular SHANNON MUIR'S VOLTRON PAGES.
For breaking news, or to read weekly reflective musings of the author on being a writer, follow Animated Insights: The Blog. You can also become a fan of Shannon Muir's Animated Insights on Facebook.
To contact the author, please write shan@duelingmodems.com.
Shannon Muir is a member of: the Animation Writers Caucus of the Writers Guild of America, Women in Animation, and ASIFA-Hollywood.
This site last updated on: October 6, 2011
For a list of update information click here.