<![if !supportEmptyParas]> <![endif]>
ANIMATION BOOKS BY SHANNON MUIR
Shannon Muir's written several books on the animation industry... here's what they're about and places to buy them!
GARDNER'S GUIDE TO PITCHING AND SELLING ANIMATION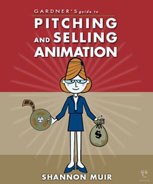 My latest book, out as an Adobe PDF ebook and scheduled for future release as a in trade paperback - designed for the student or individual who wants to learn about the process of developing his or her own television idea for animation. It walks through deciding on a concept, how to write a bible and pilot scripts, through the pitch itself.
Product Description (from publisher):
From brainstorming the first idea to making an actual sale, this resource covers the ins and outs of animation development. Whether deciding what format is best to present ideas, explaining how to get the chance to pitch a concept, or discussing how to deal with the outcome—positive or negative—this book serves as a toolkit for those trying to find a place in the animation industry. Expert interviews and case studies follow several ideas through the development process, and there is information on half-hour programs, webisodes, feature films, and short films. For students and professionals alike, this is a comprehensive guide to making a successful pitch and selling an animation concept.
GARDNER'S GUIDE TO WRITING AND PRODUCING ANIMATION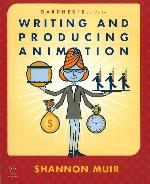 My first book, out in trade paperback now - designed for the student or individual who wants to learn about the process of producing an animated property. It goes through the idea selection process, the basic components involved in writing what will be produced, and then takes the reader through the steps of making the product from pre-production to distribution.
Trade paperback available for online order at: Amazon,

Barnes and Noble
Product Description (from publisher):
From the initial selection of an animation project to its final marketing materials, the art and business of animation production are illuminated in this step-by-step guide, which includes interviews with industry professionals about the place of their work within the general production pipeline and profiles of commercial animation studios. Television specials, pilots, shorts, and independent features are among the projects covered, in addition to a discussion of career opportunities in the field and the creative partnership of artists and engineers.
FICTION BOOKS BY SHANNON MUIR
FLYING GLORY FLASHBACK: CELEBRATING 10 YEARS OF THE LYRICS, WORDS AND HISTORY BEHIND THE WEBCOMIC FLYING GLORY AND THE HOUNDS OF GLORY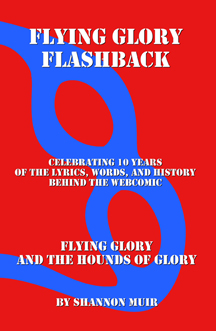 For ten years I've been involving co-writing and providing the "lyrics" for a group of teenagers who just happen to be struggling with growing up and becoming superheroes. This books mixes the history of the growth and change of the webcomic's song material along with the history and the evolution of its storyline. I've enjoyed getting to be both the storytelling and the "song" voice to this webcomic for a decade! I love music, but can't compose myself or play an instrument, so in many ways this is the closest I'll get to fulfilling that dream while telling stories I'm passionate about. Find out how my style has evolved, as well as take a walk through the history of ten years of the FLYING GLORY AND THE HOUNDS OF GLORY webcomic with openings to each chapter describing the how and why of not only the development of each song, but the storytelling period of the comic. Celebrate the 10th anniversary of FLYING GLORY AND THE HOUNDS OF GLORY with myself and my co-writer, webcomic artist, and FLYING GLORY creator Kevin Paul Shaw Broden who contributed a special introduction to this fantastic volume.
Kindle Version available at: Amazon
Product Description:
For a decade, the webcomic FLYING GLORY AND THE HOUNDS OF GLORY continues to feature the adventures of super powered teen Debra Clay, known as Flying Glory, and her backing band the Hounds of Glory. She's mentored by her grandmother Elsie Stokes, who served as Flying Glory during World War II. The webcomic launched in the summer of 2001 with a four page short, soon followed by a twenty nine page first issue. Artwork is drawn by Kevin Paul Shaw Broden, who co-writes the adventures with Shannon Muir. Currently, each issue is twenty-four pages in length and generally posted as one page weekly in black and white. As of June 2011, the tenth anniversary of the webcomic, the website features roughly 350 comic story pages. Now for the first time, every "song" from within the comic appears complete and with one volume, accompanied with introductions to each section explaining the creative development behind the storylines from each period. In addition, get a rare opportunity to read material written by Shannon Muir before the inception of the concept as well as material from the not yet produced FLYING GLORY AND THE HOUNDS OF GLORY Christmas story. Includes a special introduction by artist, co-writer and FLYING GLORY creator Kevin Paul Shaw Broden.
SEARCH FOR A WOMAN: AN ANTHOLOGY OF STORIES AND POEMS LOOKING AT WOMEN FROM ALL WALKS OF LIFE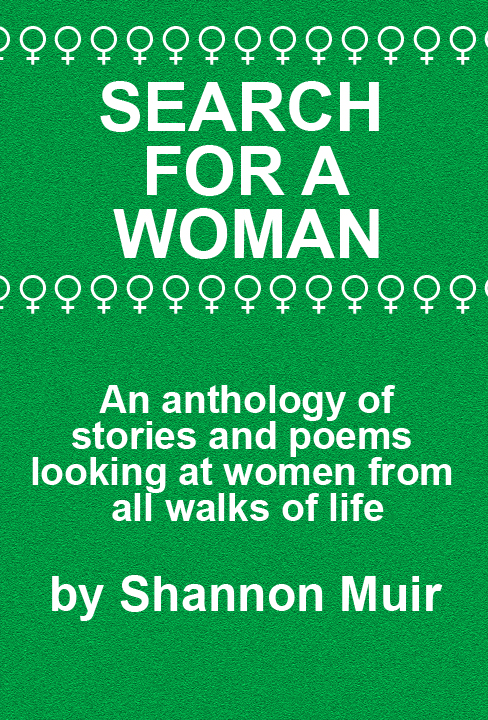 Several short stories in here are animation inspired. The story "Lost Souls" is about an mysterious relationship between an eccentric animator and her daughter with a family secret. Another story, "Dying Days," is done from the perspective of an animation creation. Overall, the anthology shows the diversity of my skill and interests. Available in multiple ebook formats only, at only a low 99 cent price.
Multiple ebook formats available at: Smashwords
Product Description:
An anthology of short stories and poems looking at women from all walks of life.
Elderly women on a bus. A military officer and an alien ambassador. A runway model wishing for a normal life. An obsessive fan. Someone haunted by a love lost forever. A woman that's turned her back on her childhood church. A woman dealing with the death of someone she never got to know.

What is in common here?

All of them, and more, are making journeys through life to find what defines them as women. This collection of ten poems and nine short stories travels though time and even space to look at women's issues from a variety of angles and themes...
TOUCH THE STARS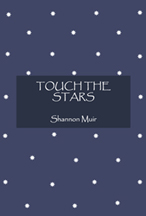 My first fiction novel set in the Los Angeles entertainment industry. While it doesn't deal with animation per se, the characters and settings and drawn from a lot of my experiences in the business over the years, particuarly from the gigs I had in between my animation experiences. If you're curious about how I handle fiction, give it a try! The trade paperback is 144 pages in a 6x9 format. Also available in Kindle and epub file formats.
Trade paperback available for online order at:

Amazon

,

Lulu.com
Kindle Version available at: Amazon
E-Pub e-book available at: Lulu.com
Product Description:
Angela Damon moved from a small town to the big city of Los Angeles to follow her dreams and to see the world and maybe find the father she never knew. Upon her mother's death, old wounds are opened and mysteries uncovered that begin to give Angela keys to her identity. Along the way, she undergoes a transformation of self as Angela strives to discover what makes her identity as a person and what the definition of personal happiness is. Her surprise guide in that journey is a waiter named Hugo with a few dreams of his own. . .
<![if !supportEmptyParas]> <![endif]>
<![if !supportEmptyParas]> <![endif]>
All content copyright 2001 - 2011 Shannon Muir. All rights reserved.
<![if !supportEmptyParas]> <![endif]>
<![if !supportEmptyParas]> <![endif]>