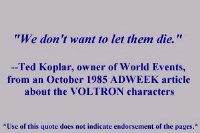 ---
Welcome to
SHANNON MUIR'S VOLTRON PAGES
now part of SHANNON MUIR'S ANIMATED INSIGHTS
Last updated: June 19, 2011
If you want to learn more about everything Shannon Muir's Animated Insights has to offer, please click here. If you have any issues with the pages in terms of broken links please email shan@duelingmodems.com or leave a note at the "Shannon Muir's Animated Insights" space on Facebook.
Following the VOLTRON property (with emphasis on the television series) and the career of writer and animation production personnel professional Shannon Muir, who helped co-develop the official Denubian Galaxy starmap.
June 19th, 2011 :
The new series VOLTRON FORCE is now airing on Nicktoons in the US. Please be advised that this pages do not - and will not contain for the forseeable future - any information about the VOLTRON FORCE show. It is not known how much of anything covered in these pages is still considered canon and taken on to the new series. It is possible this is the show that explains the missing years between VOLTRON and VOLTRON: THE THIRD DIMENSION or establishes VOLTRON: THE THIRD DIMENSION as non-canon (though, since even the original show established multiple dimensions, there's always the possibility we were watching an alternate dimension the whole time). My professional committments do not put me in a position to discuss the current show, and the lack of information on these pages is not a statement as to how I feel about the current show.
March 6th, 2011 :
Reflections about speaking about Peter Keefe at the annual "Afternoon of Rememberance" for those who have passed in the animation community. Read my blog about it at Animated Insights: The Blog.
May 31th, 2010 :
Peter Keefe, the Executive Producer of VOLTRON: DEFENDER OF THE UNIVERSE, passes away at 57. Read my blog about it at Animated Insights: The
 Don't miss my book, GARDNER'S GUIDE TO WRITING AND PRODUCING ANIMATION, which includes Spotlight Interviews with Marc Handler and Jack Angel (the voice of Zarkon and Hazar in the original series) and also looks at the foreign dubbing process (ADR) that brought shows like Voltron to life! Order it at Amazon.com as well as Barnes and Noble's website.


March 31, 2006:
 This month marks twenty years since I received an encouraging letter from VOLTRON Story Editor Marc Handler that completely changed my world, and later this year I will mark ten years professionally being in Los Angeles.  I know that this site has served many people in the fandom over the years and eventually served as the model for World Events' own official Denubian Galaxy Starmap with myself working as a consultant on it, and details from that map making an influence on Voltron: The Third Dimension.  If anyone told me twenty years ago what impact the magnitude of one event would have on so many things, I don't think I would have believed it. 
All that said, there is also a time for things to come to an end.  By that I don't mean the fandom's love and appreciation of VOLTRON, but my own involvement in the fandom.  I probably will not be updating this site any longer, and one day it may just vanish all together, though I don't have any kind of timeframe for that.  It is my sincere hope that if future opportunities come along to work with the VOLTRON franchise that I can do that as a professional, and that will be easier to do if I am less directly tied to the fandom. 
Until then, may this site serve you in any way it can.
-- Shannon Muir
"When I began this in 1996, it was for closure on a show that I loved, hadn't seen broadcast in six years, and convinced I'd never see again. Little did I know what was to come. I am so thrilled to see not only other fans like myself still interested, but a new generation as well." – Shannon Muir
"I am also proud that my version of the Denubian Galaxy Starmap was designated the official version by World Events Productions. It is an honor to have made a lasting mark on the VOLTRON legend."  – Shannon Muir
A big THANK YOU to the over 100,000 visitors to this site since it went up in May of 1996!
---
I hope you enjoy my pages and find them useful. And my thanks to everyone who has contributed information!
Shannon Muir
---
Known visitors to this page so far (counter installed 05/05/96):
Want one of these for your own? Here's where to get one!
---
---
The mention of certain individuals' names on this page DOES NOT necessarily reflect any kind of endorsement for the pages. This page is designed by a fan to provide information to other fans. I am aware that copyrights to the contents of these pages are held by others. World Events Productions has been informed by e-mail as to the existence of these VOLTRON pages and I will comply with any requests they, or partners collaborating with them, make of me in regards to these pages. If anyone has ANY problems with my usage of these copyrights, please e-mail me and I'll be happy to work something out with you.